Removing Mold and Algae with MonoClean
MonoClean is a mold cleaner, wood cleaner and restorer, vinyl siding cleaner and roof cleaner that plates out to any surface providing sustainable protection from viruses, bacteria, and mold/mildew/algae . You can clean your home with Anti Mold soap to get rid of the problems associated with mold/mildew/algae and bacteria and then prevent it from returning because of it's ability to provide continuing protection. Monolaurin (key ingrediant in MonoClean) can be deposited on to any surface over a very wide pH range of 2.5 to 12.5 without any difficulty.
This home was so discolored with black mold the owners thought the cedar siding would have to be replaced.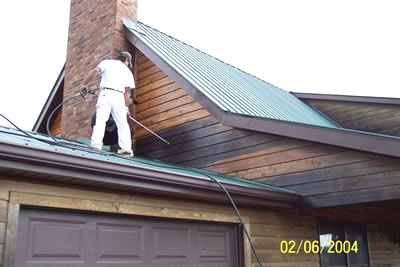 A painting contractor decided to try Anti Mold Soap to clean it before going through the expense of tearing it all off and replacing it. This picture shows the areas cleaned and areas black with mold not yet cleaned. He sent in his comments.
"Your Anti Mold Soap is the best we have ever used. This home was stained with a 7 year warranty product and looked BLACK with mold and mildew after 3 years. We used your Anti Mold Soap and pressure washed the home. The results were fantastic. Here is a photo to see how it performed. I added only 2 1/2 cups of Anti Mold Soap to 10 gallons of water and cleaned this 4,000 sq ft home. It looks so good that the homeowner wants a clear sealant without stain now. They do not want to cover the rich and beautiful looking cedar. This stuff is unbelievable, WOW."
Mr. and Mrs. RH Laurel Fork, VA
---
Protecting Surfaces with MonoClean
We took a piece of gypsum wall board and coated it with MonoClean.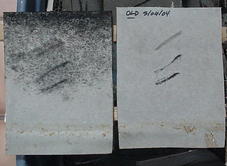 After the MonoClean dried we inoculated the surface with typical wall board black mold spores. The sample was then placed into a plastic tank with two inches of water along with an inoculated non-treated board. This photo shows the result of 3 months in the tank. The mold has begun to aggressively attack the the untreated board yet hasn't begun to develop on the MonoClean board.
Thus MonoClean can not only remove mold but also protect non-splashed surfaces for a considerable length of time. Some common applications are under sinks, the inside of exterior doors and basement areas that may regularly have a high humidity environment. We suggest that after removing the mold you lightly spray the affected area and leave it slightly damp. The MonoClean will dry into a protective coating.
For long term protection we recommend using the NuKlear® system.
Clean up the mold around your house now! Order MonoClean